Adam O'Keeffe
HIS LIFE DID RIPPLES MAKE AND TOUCHED THE LIVES OF ALL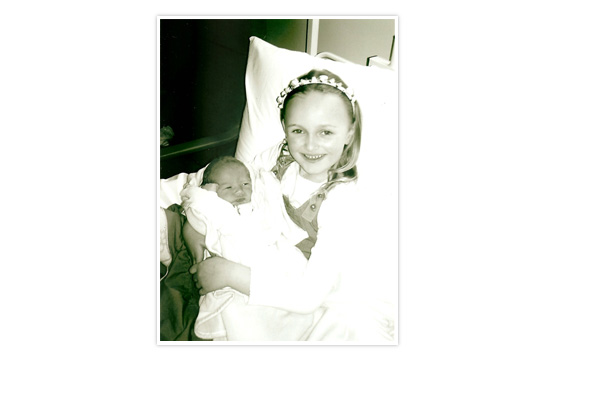 12th December 2007 – 28th December 2007
Adam was born on the 12 /12 /07 at 12.07! After changing his mind many times in the previous days he came into the world in a big hurry and even surprised the midwives!
We had two beautiful daughters already, so when Adam arrived we were ecstatic, he made our world perfect and we couldn't believe how lucky we were. He was just like his sisters when they were born with big chubby cheeks. I remember gazing at him, amazed by his perfect features, his little fingers which grasped so tightly and his cute little nose.
His big sister Amy was besotted by him, holding him in her arms when he was only 6 hrs old, she kissed him and he let out a little gurgle and opened his eyes. His other big sister Lara was only 15 months old at the time so we thought we would wait to introduce Adam when he got home, that is one of my biggest regrets.
We had one day of normality with Adam. He was then rushed to Crumlin Hospital where we were told that he had a heart condition.
After two major surgeries at just 2 days and 5 days of age Adam astounded the doctors and made it out of ICU onto St Theresas Ward. He was so strong and brave and we called him our little superman. He loved his cuddles and used to snuggle into us whenever we were able to hold him, so content to be in our arms.
The doctors were pleased with his progress and even mentioned taking him home before the New Year but that wasn't to be. Adam was taken from us on the 28th December and our world fell apart. He was just 16 days old.
That was Adams little lifetime, far too short but he will always be our precious son and we will always cherish the time we spent with him. He taught a lot of people to slow down and hold their children closer. He was our special little man.
<em>So blessed we were, with our family of four.
Never did we think we would have one more.
Boy or girl, it didn't matter to me,
But when Adam arrived, I was as happy as could be.
Adam was so special right from the start.
He grasped our hands and captured our hearts.
And like a single drop of rain that on still waters fall,
His life did ripples make and touched the lives of all.
Adam, my little man so handsome, brave and strong.
We didn't think that you wouldn't live for long.
You were so perfect if only I knew
My cuddles and kisses, so precious but few.
Our final goodbye the time never right.
I held you so close, God took you into the night.
Your little heart too sick to mend
Now I only have your grave left to tend.
So when people ask I will say
I have three children but one was taken away.
Adam my son so precious to me
As are my two girls, Amy and Lara for all to see.
Always in our hearts Adam
Lots of love, hugs, cuddles, kisses and squishes,
Mom, Dad, Amy and Lara xxxx