Bereaved Siblings
A Feature Article by a Bereaved Sibling
Grieving the loss of a Sibling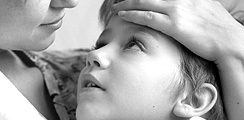 When the death of a child and sibling strikes a family it is one of the most heartbreaking experiences. In effect there are two main ways of losing a loved one – either through long-term illness or sudden death. There is no easy way to let go of someone within your close family circle.
A sudden death, be it through natural causes, accident or suicide, is hugely traumatic for any family. Likewise words cannot describe what it is like to stand by helplessly, watching and witnessing the suffering and pain of your seven year old sibling. The answer to 'why' never comes.
The lives of everyone around this child are turned up-side-down. The family unit is divided and broken. The mother figure has no choice but to leave the comfort of the family home to be with her terminally-ill child in hospital while the father continues with normal daily tasks such as providing for his family.
The eldest sibling has just started college, so no longer lives within the comfort of the family circle. The thirteen year old, who is still only a child herself, is expected to adopt the role of the mother to the four year old, who all of a sudden has just temporarily lost his birth mother.
So the myth that the loss of a loved one in a family brings the family unit closer together is but a myth. It tears them apart. Anger and resentment engulf the household. Who do I take my anger out on today? Human nature as it is dictates we take our anger out on those closest to us. This is the case with all aspects of life – not just grief.
At a time when we should be comforting one another we are causing more hurt and pain. Tip-toeing around, walking on egg shells, not knowing whether you should mention the deceased siblings name, for fear of upsetting another family member or even yourself. These are all initial aspects of the grieving process.
Each family member has their own unique way of dealing with grief or not dealing with it in some cases. Do I suffer the silent torturous grief that rips the heart right out of you or do I share my grief?  As the saying goes, a problem shared is a problem halved, then surely grief shared should equate to the same.
Yet, it is easier to be deafened by the silence than to risk upsetting both yourself and everyone else. Blocking out the last few months from ones life at the time seems easier than actually admitting ones true feelings. This hasn't really happened to my family. How is a nineteen year old, a thirteen year old and a four year old meant to have the mentality or understanding to comprehend what has just happened to their family?
Of course, the older sibling should comfort the younger members of the family but how can she do that when she herself has also lost her much loved sibling. She has just watched her younger sibling fight for his life for five long months. She has peered at him through a glass partition, unable to touch or feel him on occasion as he is in Intensive Care. This is not normal life. An innocent child should not have to endure such hell on earth.
The whole family is traumatised. The parents are traumatised by the loss of their first-born son. The siblings have just lost their first-born brother. The family are abandoned by society and the system and left to grieve on their own. The once safe happy home has now become a sad and lonely place to visit. What is it like for the younger siblings who have to resume normal family life?  They have not just lost a sibling but they have also temporarily lost their once loving and supportive parents.  How can a parent be expected to deal with the loss of a child and be there to comfort and support the remaining siblings? This is cruelty of the highest form. The loss of a child and the loss of a sibling is comparable to a life-long prison sentence.
The family tree has changed forever. He will always be a very special family member but his line stops there. He is only known to siblings born after his passing through existing family. To have been deprived of ever getting to know your very own sibling is unforgiveable. He is also only known by name to the next generation of the family tree.
All future family occasions are changed forever. Birthday celebrations, anniversaries, festive occasions are no longer a celebration but a sad reminder of the past. The anniversary, the siblings birthday and christmas day are by far the most difficult to get through. Every year you relive the past.
Two decades ago there was no counselling or support available to parents or siblings who suffered the loss of a child or young sibling. Maybe this was acceptable then in the times of dear old recession-gripped Ireland but it is not acceptable today.
Only in the last few years has a charitable organisation called AnamCara been set up by bereaved parents to help and support grieving parents. Sibling grief also needs to be acknowledged.
Where the loss of a child is incomprehensible the loss of a sibling is equally so. Both parent and sibling have suffered the loss of a portion of their past, present and future life.
After the Death of a Brother or Sister
After the death of your brother or sister you may feel:
Shocked and numb,
Like nothing else would matter anymore,
Angry and confused with god for letting this happen (betrayed),
Guilty and regretful of what you could have told them,
Isolated from friends who don't understand and either say the wrong things or nothing at all,
Constantly tired even when you have slept for hours,
Emptiness inside that never goes away,
Irritated by teachers who try to understand or treat you differently,
That when you cry you can feel your heart breaking,
Confused that when people see you upset they ask "are you ok" or "whats wrong" do they actually expect you to answer!!
You think life can't get better ever again.
But there is always one friend, it does not have to be a best friend, who you can talk to and they will listen and it feels like they understand and it makes you feel good just knowing they are there.
External Links for Siblings
Go 4 It!
Michael Rosen, the Children's Laureate, joined Barney and the GFI team to talk about the difficult topic of coping with death. All the children on the programme have had to deal with their Dad or brother dying.
They wanted to pass on their tips to other children.
BBC Radio 4's "Go 4 It": Children and Bereavement