Grandparents Cry Twice
ISBN-10: 089503204X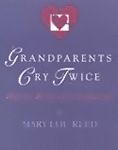 Grandparents Cry Twice: Help for Bereaved Grandparents" is a book about grandparents' dual sorrow when a grandchild dies.
They cry for their lost grandchild and they also cry for the terrible grief they see their own child having to bear.
The author, Mary Lou Reed, writes of her experiences when her beloved grandson, Alex, died. Through her personal story she touches the universal in all grandparents' grief.