Download Anam Cara Newsletter December 2017
Anam Cara commemorates ten years in February 2018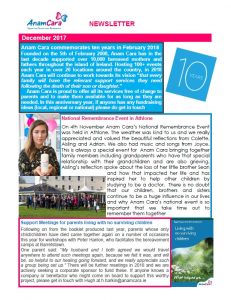 Founded on the 5th of February 2008, Anam Cara has in the last decade supported over 10,000 bereaved mothers and fathers throughout the island of Ireland. Hosting 100+ events each year in over 20 locations around the country, in 2018 Anam Cara will continue to work towards its vision "that every family will have the relevant support services they need following the death of their son or daughter."
Anam Cara is proud to offer all its services free of charge to parents and to make them available for as long as they are needed. In this anniversary year, if anyone has any fundraising ideas (local, regional or national) please do get in touch.
National Remembrance Event in Athlone
On 4th November Anam Cara's National Remembrance Event was held in Athlone. The weather was kind to us and we really appreciated and valued the beautiful reflections from Colette, Aisling and Adrian. We also had music and songs from Joyce. This is always a special event for Anam Cara bringing together family members including grandparents who have that special relationship with their grandchildren and are also grieving. Aisling's reflection spoke about the loss of her little brother Sean and how that impacted her life and has inspired her to help other children by studying to be a doctor. There is no doubt that our children, brothers and sisters continue to be a huge influence in our lives and why Anam Cara's national event is so important that we take time out to remember them together
Anam Cara in Numbers
In 2017 Anam Cara facilitated 109 events for bereaved parents and families throughout Ireland.
1,860 parents attended these events at the 10 Anam Cara groups.
At the Anam Cara Bereavement Information Evenings, which are often parents first introduction to Anam Cara , an average of 18 parents attended and availed of our Information Packs, listened to our professional guest speakers and met with our volunteer parents and professional facilitators.
1,308 Anam Cara Information Packs were distributed this year to parents and professionals in contact with bereaved parents .
Anam Cara hosted 5 Family events .
96 Professionals attended Anam Cara workshops on bereavement and loss.